On January 26, 2023, in Benjakitti Park in the heart of Bangkok, the launching ceremony of the France-Thailand Year of Innovation 2023 brought together more than 1,500 people. Representing French culture and literature internationally, The Little Prince was there to celebrate this great moment!
In the presence of the Thai Minister of Education and the Minister Delegate to the French Minister for Europe and Foreign Affairs, this launch ceremony gave rise to an exceptional drone show on the theme of Franco- Thailand, their space cooperation and the Little Prince. Drones have thus formed the face of the Little Prince in the night sky of Bangkok!
The stand of the Antoine Saint Exupéry Foundation attracted many guests present at the inauguration, to celebrate the 80th anniversary of the Little Prince and admire the sculptures paying homage to the Little Prince, made by the French sculptor Arnaud Nazare-Aga and also visible at the Little Prince Cafe in Bangkok. The Little Prince has already been translated into Thai and four local dialects.
Astronauts Claudie and Jean-Pierre Haigneré, sponsors of the Antoine de Saint Exupéry Foundation for Youth, opened the ceremony with a speech highlighting the dynamics of bilateral cooperation between France and Thailand in promising sectors.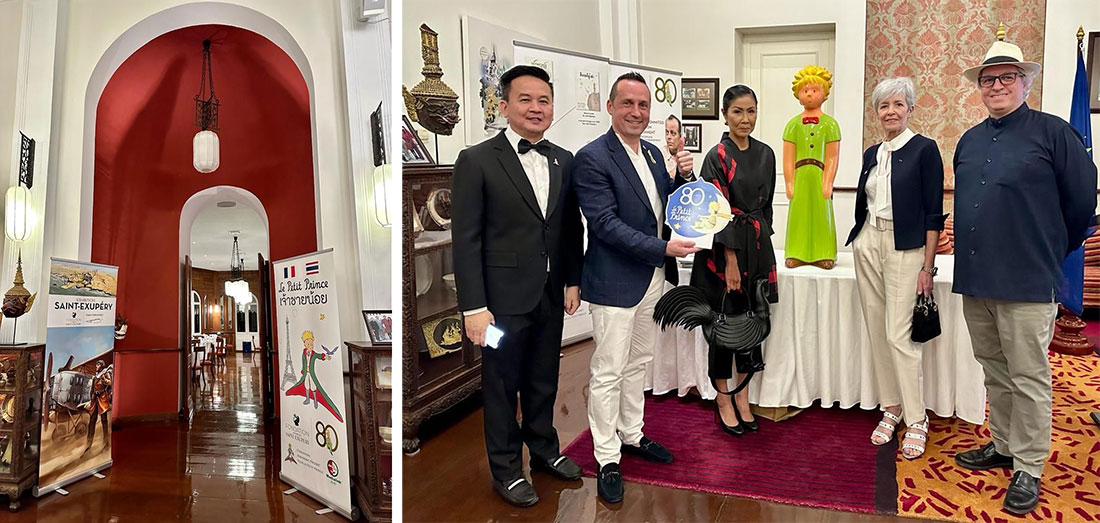 The Little Prince Cafe in Bangkok / 27 Pho Kaew 3, Klong Chan, Bang Kapi, Bangkok, Thailand, Bangkok
The next day, on the occasion of the Educ'Art festival in partnership with the Alliance Française of Bangkok, a theater troupe performed at the Alliance Française for an adapted performance of The Little Prince. The show was followed by a meeting with the artists and the sculptor Arnaud Nazare-Aga, who runs the Paj'Art workshop, exhibited his statues.
The whole world is celebrating the 80th birthday of the Little Prince!